Get on the Stick Today!
HydrogenRich Water Stick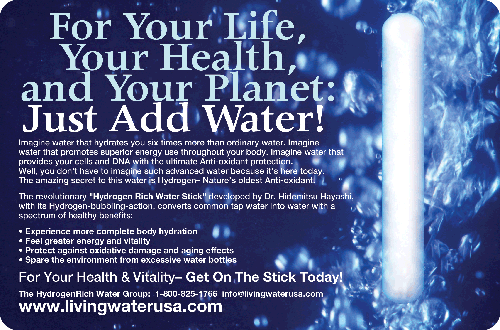 It's Easy!
Place it in your personal portable reusable water container and just add water. Shake 15 seconds and in 15 minutes enjoy Hydrogen Rich Water for health and vitality.
The Stick lasts at least 6 months for 800 uses and filters 1600 liters of water.
Don't sit there oxidizing!
Use your strength to pick up the phone
Call Us Today!
785-856-0701
or Send Email
WATER – The Foundation of Life!
ACTIVE IONIZED HYDROGEN – The oldest antioxidant on earth!
HYDROGEN RICH WATER – The Missing Key to Health and Beauty! #1 bio-available source of "active free hydrogen" it penetrates tissues and cells to combine with damaging free radicals and protect cells including DNA and mitochondria. Relief from oxidative stress – a primary cause of disease – may aid restoration of cell function and inhibit aging processes.
HYDROGEN RICH WATER STICK SPECS
• Dissolved hydrogen: 0.4~1.5 ppm
• Redox potential: -50mV ~ -250mV
• pH: approx. 7.5 – 9
• Materials: Magnesium (99.9% pure) with natural stone, ultra-fine porous PP resin
• Durability: 6 months with proper cleaning in diluted vinegar water – 800 uses
• Usable with tap or filtered water
US Patent Number: 7,189,330 B2
Keep out of reach of small children. Store away from high temp, humidity, and exposure to direct sunlight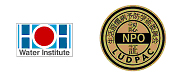 Approved by LUDPAC
(Living Usage Disease Prevention Academic Committee)
Certified by Japan Sports Network
We are looking for distributors. Call for details.